Congrats to our cross country runners today! The girls team qualified for the state meet: Lilly 5th, Tessa 9th, Harper 27th, Vivian 30th, and Sophie 40th. They will compete at the state meet in Sioux Falls. Congrats to our boys: Gus 19th State Qualifier, Luke 22nd, Wyatt 23rd, Jase 28th, and Miles 35th. Our JV runners also has the opportunity to compete: Lydia 1st, Brea 2nd, Ella 5th, Keira 8th for the girls. Boys Isaac 2nd and Micah 12th. Great job today in tough conditions!

10/13/21: As usual the weather will take a turn today. With the turn in weather is Region Cross Country @ Dell Rapids. Good luck to all the runners and go Tornadoes!!

10/12 Busy day today. The events are as follows: 3:45 JH/JV/Varsity volleyball vs Dell Rapids St Mary @ Home 4 pm JH FB vs Avon @ home All games will be livestreamed for free on NFHS network thanks to the Booster Clubs generous donation.

10/9 Events: 1 pm 8th grade Volleyball vs Iroquois @ Home 2 pm JV/Varsity Volleyball vs Iroquois @ Home 8 pm Homecoming Dance for Centerville High School Students

10/8: Events 1 pm Parade downtown 2 pm Powderpuff Football @ Practice field 4 pm 6th/7th grade Football vs Alcester-Hudson @ Home 7 pm Varsity Football vs Avon Homecoming @ Home Good luck to all the teams on Homecoming day/night!!!


10/6 Events: 2 pm Cross Country last regular season meet JH/JV/Varsity @ Irene Glenridge Golf Course Good Luck Tornadoes!!


Join the Centerville Rotary Club for a Homecoming Tailgate. The tailgate will take place Friday starting at 6pm. See the attachment for more details.

Congratulations to this year's homecoming King and Queen! Queen Sophie Eide and King Malachi Brouwer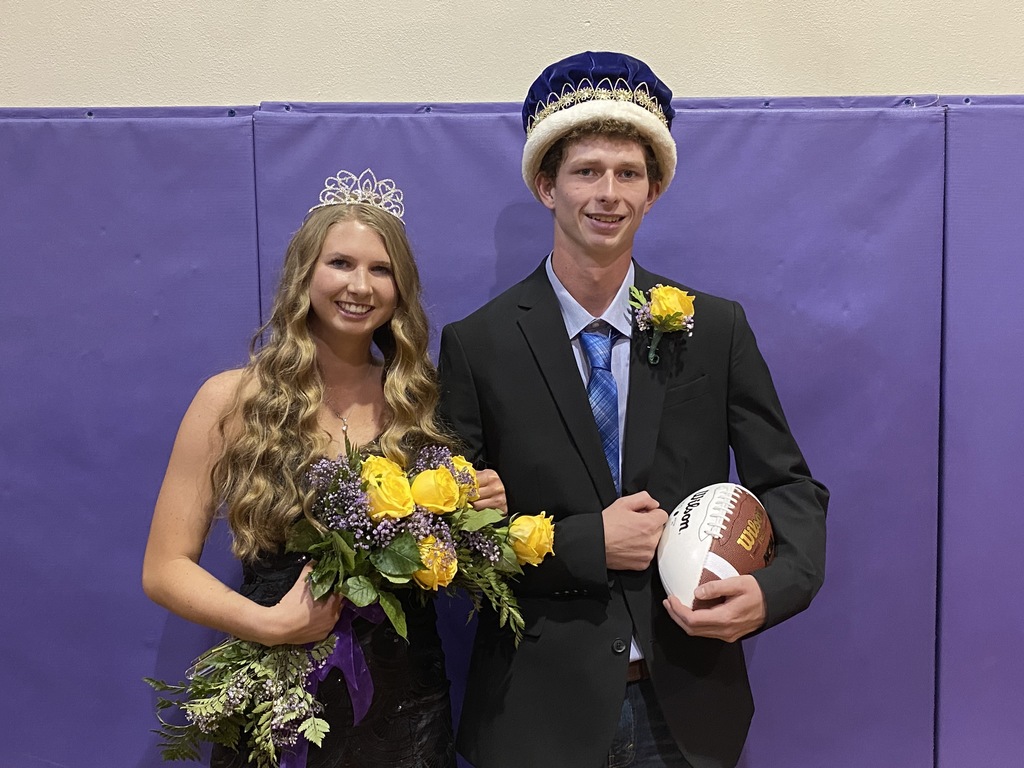 Anyone planning to attend coronation at 7pm tonight is asked to enter the north doors. Entry to the gold gym will be by the stage. Thank you, best of luck to our king and queen candidates!

10/4 Activities: 4 pm Junior High Football @ Gayville-Volin 7 pm Coronation @ Gold gym

Congratulations once again to the Centerville Marching Band under the direction of Kay Herrboldt. 1st place at Chester competition today!!!

Message about T-shirts for car show.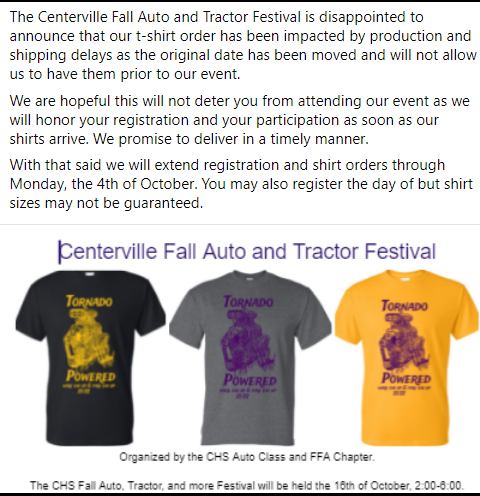 10/1 High School Football 6 pm @ Gayville. Please remember the earlier start time. Game will be livestreamed on the Gayville-Volin YouTube channel. The channel can be found on their website.

9/30/21 Events today: 4 pm JH/JV/Varsity Volleyball @ Irene-Wakonda Livestream will be available from their school website
https://www.irene-wakonda.k12.sd.us/
4:15 pm Cross country Great Plains Conference @ Burke

10/1 Varsity Football @ Gayville-Volin. Please note the time is 6 pm kickoff.

9/29 2 pm Cross Country @ Parker

Tornado Times: The October 1st edition of our Tornado Times newsletter will be on stands tomorrow. Get a copy at the library, Lewis Drug, or One American Bank. The newsletters cost $2 to print, please donate to keep the newsletter going. The September 15th edition is online. If you are interested in a subscription and the newsletter mailed to your door, please see our attached registration.