Centerville vs. Viborg-Hurley annual 'Gold Out' night will be held Thursday, September 22nd. T-shirts and bracelets will be available for purchase at the games. All proceeds will be donated to the National Pediatric Cancer Foundation. Come out and help support a good cause!

9/15 Events for tonight: We will be hosting a Varsity Volleyball Triangular. Games will go as follows: 5 pm Centerville vs Freeman Academy/Marion 6:30 pm Freeman Academy/Marion vs Gayville-Volin 8:00 pm Centerville vs Gayville-Volin *Times approximate we will run ahead of schedule if possible** Games will all be on live ticket tv. We have been working on cleaning up some of the issues on our trial run Tuesday. Please remember to go to
http://tornadoes.liveticket.tv/
Select the activity you want to view and it should take you to it. You also can download the app and like teams and that will push notification when games will go live. Now that we have broadcasted you should be able to search Centerville Tornadoes live on YouTube as well. You will have to leave the event and rejoin once the second game is over to watch Centerville vs Gayville-Volin. We are happy to have some sponsors on board to provide this as a free service to all viewers. Also remember sponsors 20% of your sponsorship will come right back to the school. Thank you to Knudson Masonry, Knudson Buseman Insurance, Total Stop, and Automatic Irrigation for signing on as sponsors already.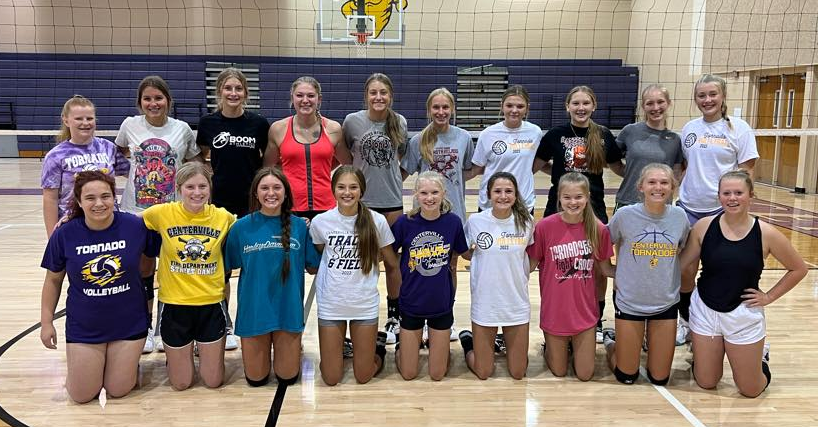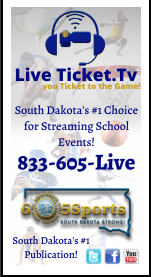 Get your September 15th edition of the Tornado Times today. Hard copies are available at the school library, One American Bank, and Lewis Drug for $2. Have each edition mailed to your house by buying a subscription.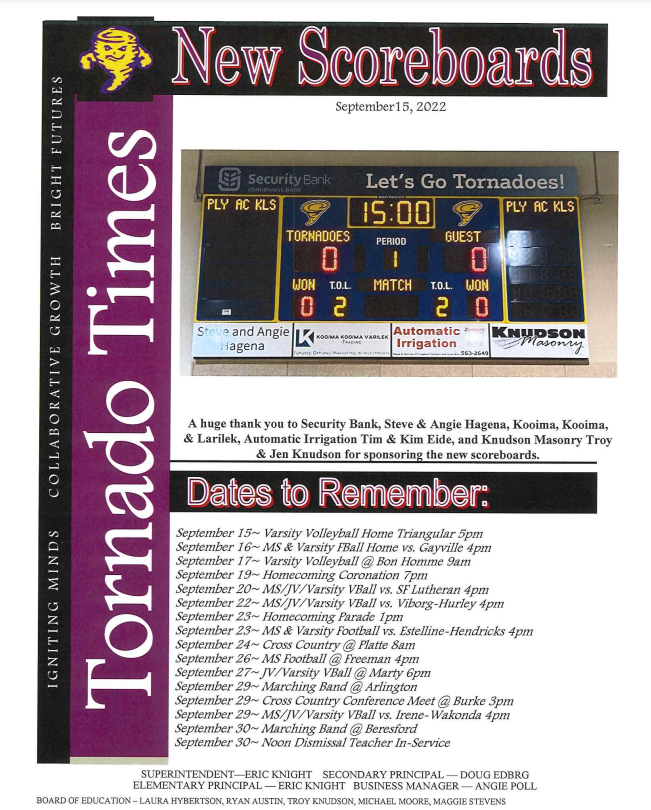 On Friday, Sept 16th at the JH & HS football games - Come out and support the Tornado Cross Country Team as they will serve you out of the new concession stand under the newly built crow's nest. Come hungry and feed your families and friends, as they will be serving a Pork Loin Sandwich Meal Deal, a Hotdog Meal Deal, super nachos, and more. THE TEAM WILL BE SERVING DURING BOTH GAMES AND BETWEEN GAMES ON FRIDAY!!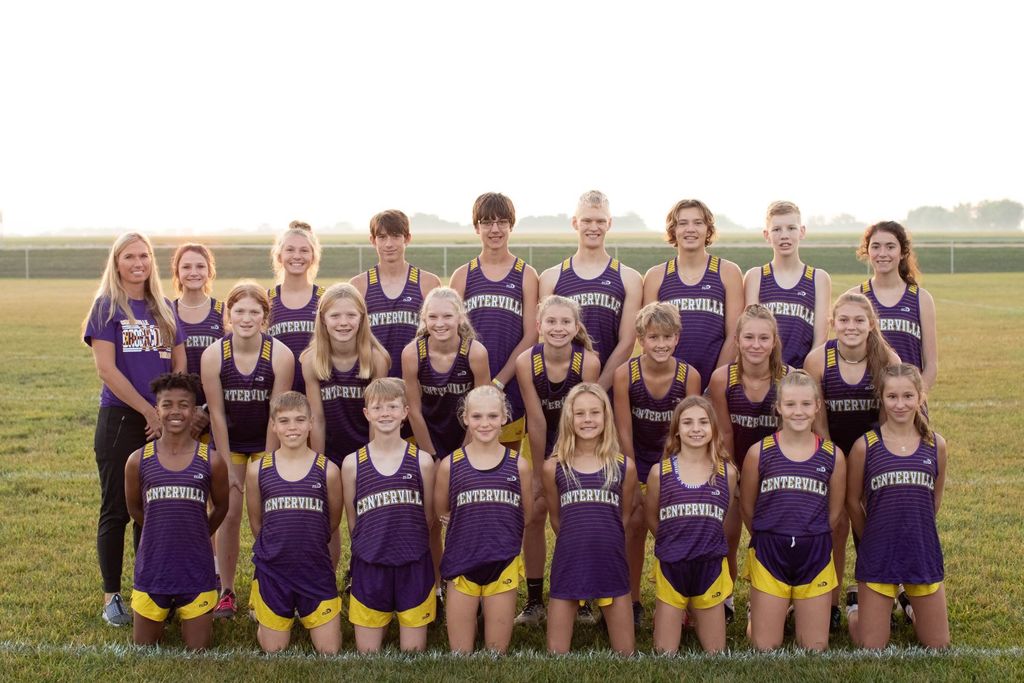 The After Prom will be selling puravida bracelets during homecoming festivities next week. Please see the attached flyer for details.

Our new scoreboards are installed and ready for some volleyball action tonight. Thank you to our sponsors for making this project possible: Security Bank, Steve and Angie Hagena, Kooima, Kooima, & Varilek, Automatic Irrigation, and Knudson Masonry.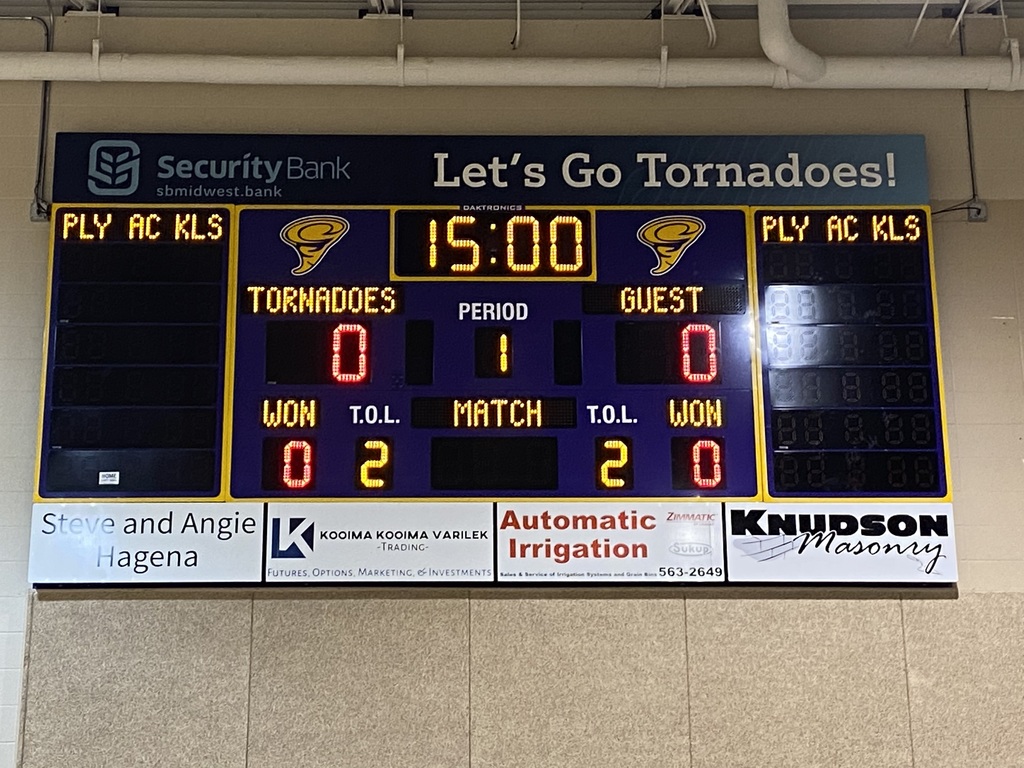 9/13 Events: Home volleyball vs Alcester-Hudson schedule will be as follows: 4 pm 8th grade Purple gym 6th grade Gold gym 5 pm C team Purple gym 7th grade Gold gym 6:15 pm JV followed by Varsity Purple gym Games will be livestreamed on LiveTicket.tv for the first time. This is a youtube based streaming service. There will be hiccups but if you can't attend an option to view. We also have the new scoreboards up and running in the purple gym. You can come check them out as well. Link for livestream:
http://tornadoes.liveticket.tv/index.php?page=volleyball-game&id=17451

ATTENTION: The wellness center will be closed to the public starting Monday, September 12th until further notice. The next phase of our updating and construction will begin Monday morning. The space will open back up for use once the new floor is installed.

9/9/22 Football tonight at Corsica. Game will be on jags live YouTube channel. Good luck Tornadoes!!

Congratulations to last week's spirit stick winners Madison Carstensen and Brooke Pingrey! The next chance to showcase your school spirit is this Friday. Dress out in your best Adam Sandler character.

9/6/22: Busy day back after a short break: 4 pm JH Football @ Irene Volleyball Schedule: 4 pm        8th grade Purple gym             6th grade Gold gym 5 pm        C team Purple gym             7th grade Gold gym 6:15 pm     JV followed by Varsity in the purple gym Good luck to all athletes and coaches. Good luck Tornadoes!!

Football Friday!!! 7 pm tonight Varsity football travels to play Irene-Wakonda @ Irene. There will not be a livestream available. Theme for tonight is Neon. Good luck to the Tornado coaches and players. Come out and cheer them to a victory!!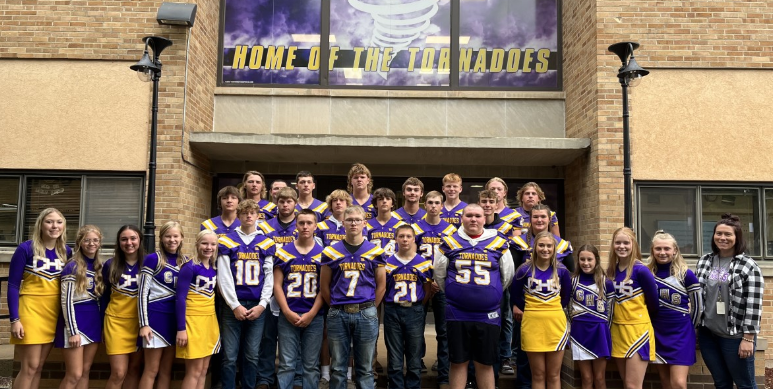 Just as a reminder, the Crow's Nest Project Donors list will be going to print tomorrow, Friday, September 2nd. If you have any changes, please email Mr. Knight,
Eric.Knight@k12.sd.us
or call the school 605-563-2291. Picture to accompany the posts are below this message. To all of our generous Crow's Nest Project Donors: please review the different sponsorship donations. How they appear in the picture (spelling, description, and family) will be how they appear on the sponsorship sign. The formatting will be different. Our donor names and information is headed to the printer. Any changes should be made by Friday. If you have changes, please call Mr. Knight at 605-563-2291 or email
Eric.Knight@k12.sd.us
. Thank you

9/1 Busy night to start off September: 4 pm Junior High football vs Chester @ Home 5:30 pm C/JV/Varsity Volleyball vs Corsica-Stickney @ Home We currently cannot stream the game on NFHS due to camera issues. Corsica-Stickney is planning on livestreaming from their YouTube channel. I will share a link once I know. Good Luck Tornadoes!!

Get the first edition of the 2022-2023 Tornado Times today. Pick up a copy at the School Library, One American Bank, or Lewis Drug. Each newsletter costs the district $2 to print, we ask that you pay $2 at each location. A subscription for each edition can be purchased for $60 and the newsletter will be mailed to you on the 1st and 15th of each month.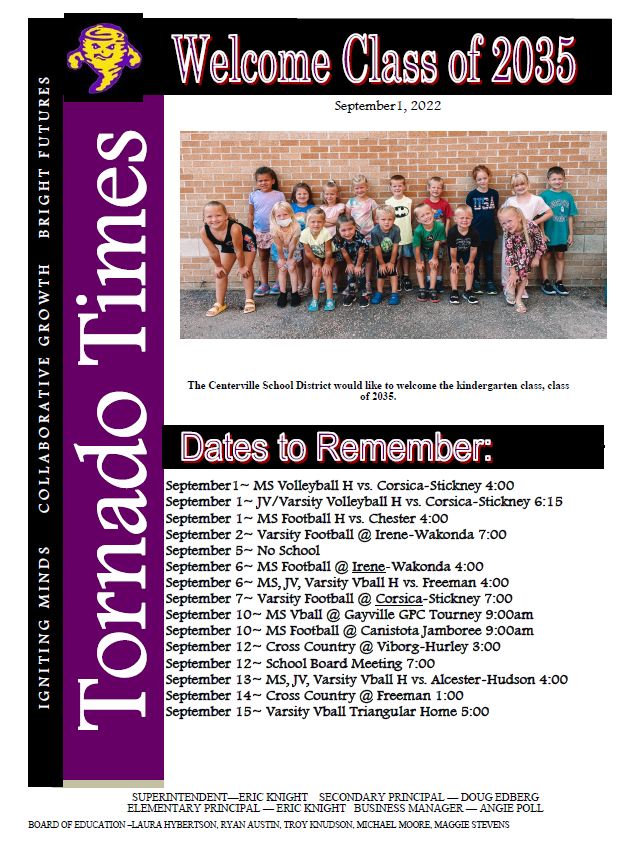 The first publication for the 2022-2023 Tornado Times hits stands tomorrow. You will be able to get all your school news on the 1st and 15th of the month. A paid subscription has every newsletter mailed to your door. If you would like to purchase them separately you will be able to find each edition for $2 at the School Library, One American Bank, and Lewis Drug.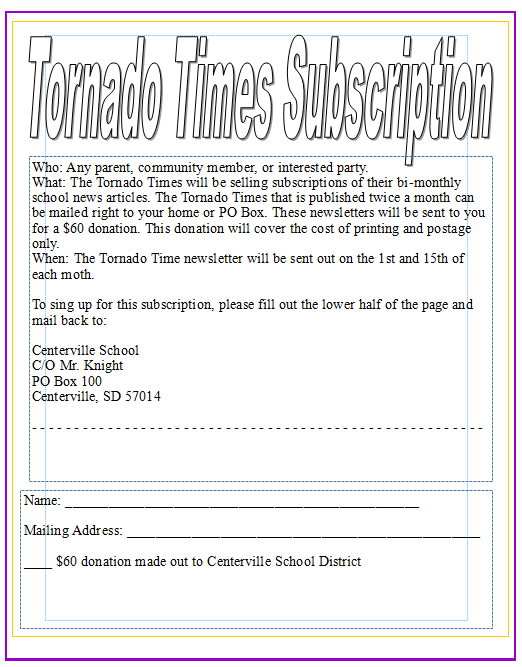 Community Mural Update: Be a part of this community based, community lead mural project. There are still several opportunities to take part. Just show up ready to paint and the lead muralists will show you how you can help be a part of creating the mural! Updated Mural Schedule: Wednesday, August 31 | 7pm - 10pm | Project lines onto the wall Saturday, Sept. 3 | 1pm – 5pm | Community Painting Sunday, Sept. 4 | 1pm – Sundown | Community Painting Monday, Sept. 5 | 1pm - Sundown | Community Painting More dates to follow as needed...

8/30 Events for today: 4 pm 8th /7th/6th grade Volleyball vs Parker @ Home 4:15 pm Cross Country @ Dakota Valley The JH Volleyball will be livestreamed on the NFHS system. There will be a cost to NFHS this year. We are in the process of converting to Live ticket TV. This service will be YouTube based with no cost associated to it. We hope to be running that system as early as next week.

Congratulations to Leah M., last week's spirit stick winner! A reminder that this week's theme is Light up the Eagles. Dress out in your neon attire.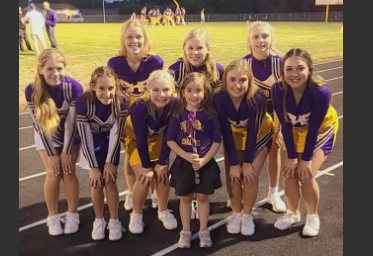 To all of our generous Crow's Nest Project Donors: please review the different sponsorship donations. How they appear in the picture (spelling, description, and family) will be how they appear on the sponsorship sign. The formatting will be different. Our donor names and information is headed to the printer. Any changes should be made by Friday. If you have changes, please call Mr. Knight at 605-563-2291 or email
Eric.Knight@k12.sd.us
. Thank you