5/18/2022 Last day of school for the students. Reminder we will have a noon dismissal. Have a safe and relaxing summer break everyone!!

5/16/22 Events: Golf meet today at Glenridge Golf course in Irene 10 am start. FFA banquet and Silent Auction 6 pm tonight in the Purple Gym.

With the severe thunderstorm warning until 530. The awards night doors will not be opened until 550. Further updates as needed.

Here is the schedule for awards night 5/12/22 starting at 6 pm for grades 6-12 academics and 7-12 activities.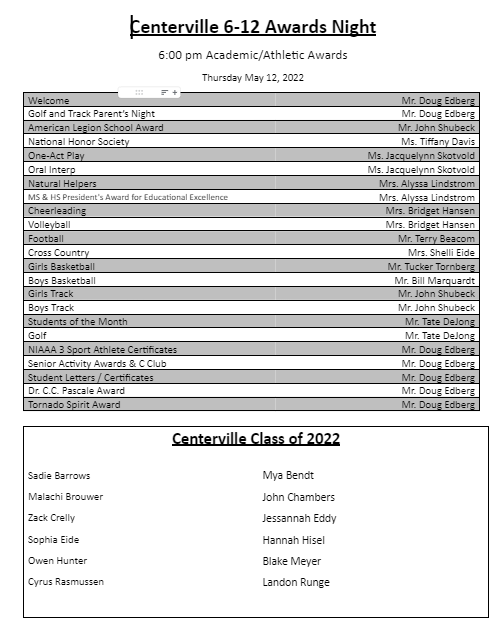 Busy week as the school year is winding down: 5/10: 1 pm HS Track @ Alcester 5/11: 10 am HS Golf @ Alcester 5/12: 6 pm Academic and Athletic Awards night Purple gym 5/13: 10:15 am Seniors walk through the school halls for the last time as students 5/14: 10 am Graduation in the Purple gym

The Crow's Nest Committee would like to thank Malachi, Jase, and Daphne Brouwer for their donation to the crow's nest project. The project is in full swing, progress pictures to come. Thanks,

5/6 Reminder we will have a noon dismissal for students today. Junior High track leaves for Alcester at 12:30 pm meet starts at 2 pm. High School track has a few girls participating at Howard wood this weekend. Good luck Tornado teams!!

5/5 Reminder the 5-12 grade Band/Choir concert is tonight. Grades 5-8 will perform starting at 7 pm. High School concert will start at 8 pm. They will also have high school band and choir awards at this time. Hope you can come out and enjoy our musical talent!!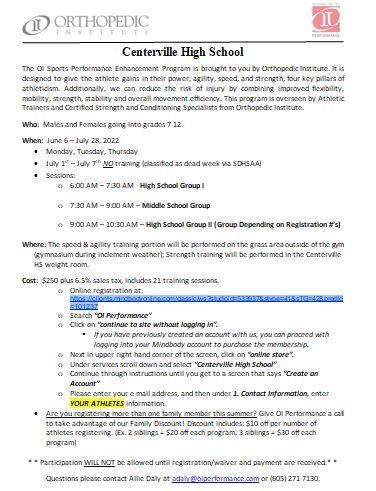 5/2/22 Junior High Golf @ Alcester is CANCELLED. Junior high track the meet is still a go in Freeman at 2:30 pm.

Get your May 1st copy of the Tornado Times. Hard copies are available for $2 at the school library, One American Bank, and Lewis Drug. Thank you, enjoy.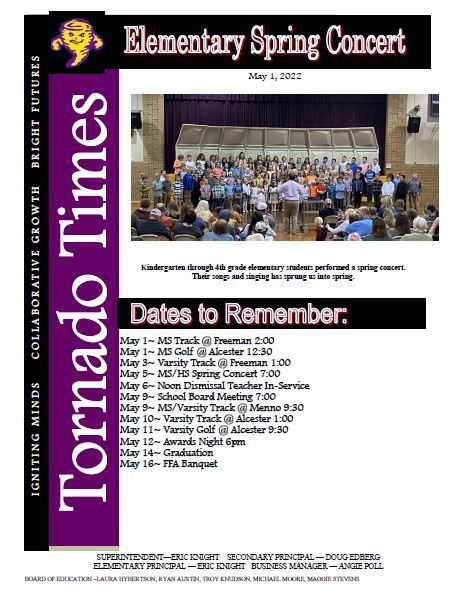 For those traveling to the track meet in Menno 4/28/22. Highway 18 is being worked on. The better route is to take highway 46.

Track meet in Gayville -Volin is cancelling the remaining events.

Golf meet in Parker 4/19/22 canceled.

An adjustment has been made for Tuesday's track meet in Gayville- the start time for field events is now 12:30 and track events 1:30.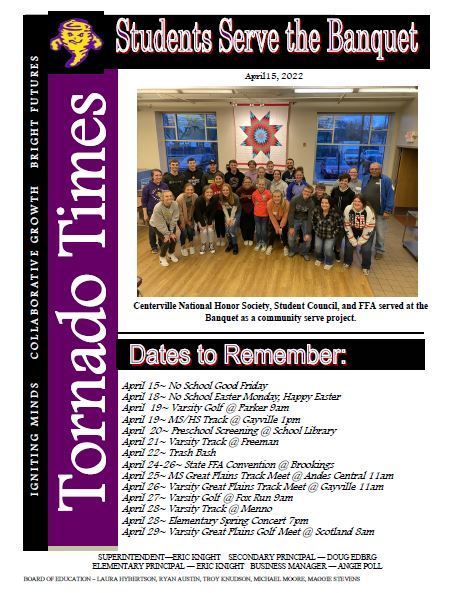 Thank you to our National Honor Society, Student Council, and FFA students for serving at the Banquet last night. It was an excellent service project and a wonderful way to serve others. A special thank you to those groups and Knudson Masonry, Thomson Agency, Fireball Decals, The Seed, and the Knight Family for donating to pay for the meal that was served.

Here is the information for Driver's Education this summer.

Due to expected poor weather conditions, the Scotland MS Track Meet scheduled for this Thursday, April 7, is cancelled.

Another beautiful addition to the Stan Schmiedt Complex. We have added the gate entry at the south west entry. Thank you to Centerville Ag Structures students, Craig Bohlman, and Troy Knudson for your help on this project.