Thank you to District 17 House of Representative Richard Vasgaard and his wife Joyce for their $1,000 donation to our crow's nest project. With their donation we have exceeded 20% of our goal for the matching grant. If you, your family, or business would like to be a part of our project, please reach out to
Eric.Knight@k12.sd.us
or 605-563-2291. Thanks,


The Crow's Nest Committee thanks the Family of John and Karen Stuntebeck for the $500 donation in the memory of their parents. Thank you

12/3 Events: 4 pm JH BBB vs Viborg-Hurley @ Hurley 6 pm State Oral Interp @ Huron Good Luck Anna! 6:15 pm JV/Varsity GBB first game @ Hanson Good luck to all of the athletes and coaches. Go Tornadoes!!

Hello Elementary Parents: The kindergarten through 5th grade concert is tonight at 7pm in the gold gym. Students should report to their classrooms first. The doors to the classrooms will open at 6:45. Thanks,

12/2 3:30 pm JH GBB vs Beresford @ Home *** 4 fans of the game dressed in purple and gold will win gift cards from the SEED*** 7 pm K-5 Winter vocal concert Come out and see the talented kids in our school!!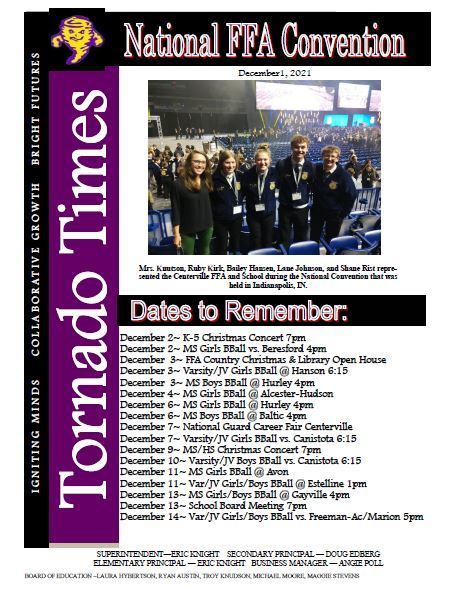 Good Morning Centerville Community: Happy Giving Tuesday! We have raised $8760 for our Crow's Nest Project. We are extremely thankful for those that have given toward this project. If you would like to be a part of this project or need to give a year end donation, please let us know. Please contact Mr. Knight if you have questions or are interested in giving,
Eric.Knight@k12.sd.us
or 605-563-2291. Thanks!

11/29: 4 pm Junior High GBB @ Baltic all games in their main gym. Good luck Tornadoes!!

11/23 4 pm Junior High basketball vs Sioux Falls Lutheran. Girls will play in the Gold (old) gym. Boys will be played in the purple (new) gym and will be livestreamed on the NFHS network. Remember the only entrance is still the North parking lot doors. Please if going to girls game enter through the hall by the vending machine to avoid construction.

11/22 4 pm JH Girls Basketball @ Elk Point-Jefferson. B game first A to follow. All games livestreamed on NFHS network.


The crow's nest project grows again, the class of 2004 has made a $1,000 donation in Memory of Lance Buseman. Thank you class of 2004!

11/15: 4 pm Junior High Girls basketball @ Avon in main gym. Please enter through the west doors.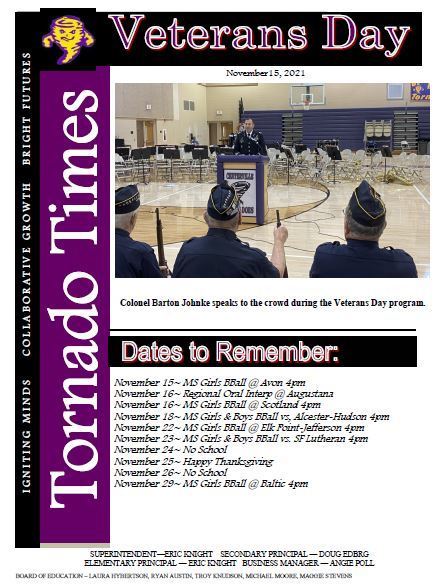 The district will be hosting our Veteran's Day program tomorrow at 10am. If you park on the south side of the building, entrance into the purple gym will be through the east doors. Please invite and reminder all veterans that their attendance would be appreciated. It is their day to be honored.

Thank you to Paul and Colleen Buckneberg! Paul and Colleen donated $50 toward the Crow's Nest Project in memory of Terry Begeman.

Girls basketball fundraiser for all ages.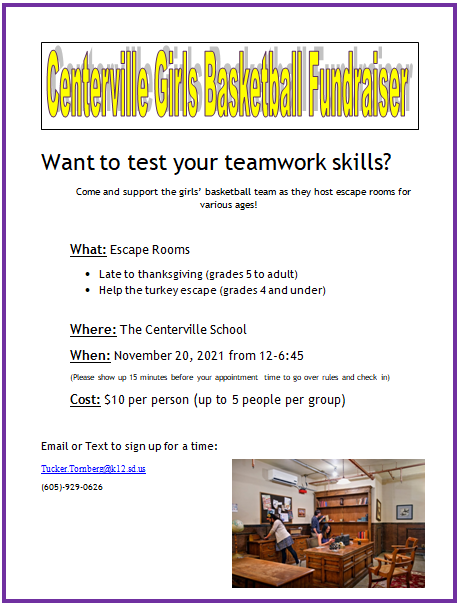 Thank you to our first corporate sponsor! Automatic Irrigation Inc. of Centerville donates to the crow's nest project. You, your family, and your business can help make this project happen. Contact the school for details! Thank you Tim and Kim Eide

Our Crow's Nest Fundraiser grows again! Thank you to Lisa Austin, Mike Austin, Dean & Mavis Austin, Kent & Kathy Austin, Shelly Landeen, Brad & Barb Austin, and Tim & Jackie Austin! Their donation to our project in memory of Terry Begeman is much appreciated. With their donation, the donations in memory of Terry Begeman have increased to the point where his name will be placed on our new structure for years to come. Thank you